A message from Mrs. Christiansen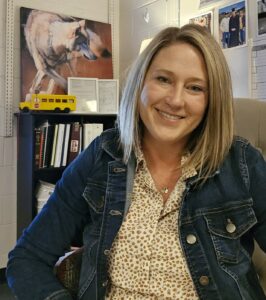 Dear Teton School District 401 students, families, staff, community members, and friends,
Welcome to a new year full of fresh opportunities, care, and support for our children in Teton Valley!
I am humbled to be serving as your new superintendent and am so excited about the direction we are already heading to move the needle forward for our students, staff, and communities. As the former principal at Victor and Tetonia Elementary Schools, I understand the amazing experiences our students are already offered, our present track record for innovative educational opportunities, and the commitment and dedication of our parents, staff, and communities.
Our current mission for TSD 401 is to empower our students to reach their full potential. This means prioritizing the needs of every student and collaboratively striving to offer avenues for each child to chase their aspirations while giving them the knowledge and skills necessary to realize their goals.
In order to achieve excellence in a comprehensive foundation of knowledge, we must be focused on a student-centered approach where we include partnerships among students, parents, staff, schools, and our communities. Our strategic plan is rooted in providing experiences for our children to adapt and contribute to our dynamic and rapidly evolving Teton Valley and world.
We invite you to be a part of this journey, so please take time to learn more about our students and district. Together, we can provide the best possible future for our students!
ABOUT MRS. CHRISTIANSEN:
Mrs. Christiansen has served in TSD 401 as an elementary principal for the past seven years. She started her career as a K-12 art teacher in Aurelia, IA. After serving as an art teacher, she taught 7-8 behavior intervention in Louisville, CO, K-5 art and high school alternative credit recovery and behavior intervention in Omaha Public Schools, middle school special education in Logan, IA, and high school special education, co-teacher, and instructional coach in Council Bluffs, IA for a total of 25 years of public school education experience.
She completed her undergraduate in elementary education and K-12 art education from Wayne State College, holds a Master of Science in special education in behavior disorders from the University of Nebraska, a Master of Education in education leadership from Doane University, an endorsement in mild-moderate strategist 1 in special education from Morningside College, and an Education Specialist degree in education leadership from Doane University. She is currently working on her Doctor of Education in education leadership from Northwest Nazarene University.
She presently serves on the ABC Afterschool program board, was the former Superintendent Designee for the Education Foundation of Teton Valley, and Crisis Prevention Institute trainer for TSD 401. She has served as the chair of graduation boards, attendance, truancy, curriculum, and leadership committees, and with special education services and behavioral health partnerships.
She and her family reside in Teton Valley. Her son, a TSD 401 graduate, is currently a senior at Dakota Wesleyan University where he is pursuing a degree to become a fish and game officer and plays baseball for the DWU Tigers. She enjoys being a baseball mom, chasing and cheering him on!
CONTACT INFORMATION:
Cell: 208-360-4836
Office: 208-228-5923
Email: [email protected]