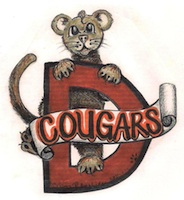 Welcome to Driggs Elementary!
Driggs Elementary serves students from the Driggs Area of Teton Valley in grades K-3. We are dedicated to providing a safe, nurturing environment where students are confident in exploring the fundamental skills in language arts, mathematics, science, and social studies.
Our school hours are from 8:30 A.M. to 3:00 P.M.
We welcome your involvement in our programs. Please don't hesitate to contact us with questions, comments, celebrations, and/or concerns.
Grade Level Supply Lists 2014-2015

Mission Statement
Driggs Elementary School, in partnership with the community, empowers our students to be respectful, responsible, and ready to maximize their potential in a safe academic environment.
Vision Statement
Providing the foundation for success.
Driggs Elementary School
481 N. Main St.Driggs, ID 83422Phone: (208) 228-5927 Fax: (208) 354-2336
Principal:
LeaAnn Gomez
This email address is being protected from spambots. You need JavaScript enabled to view it.
Secretary:
Leta Hoopes
This email address is being protected from spambots. You need JavaScript enabled to view it.